Royal Prime Window Warranty
Lifetime Non-pro-rated Limited Lifetime Warranty
Homeowner and Building Owner Warranty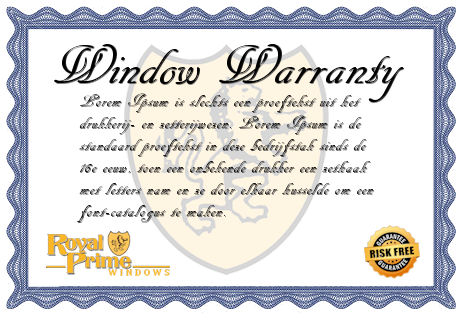 Manufacturer warrants as follows:
Installation
Royal Prime will warranty any installation from the factory for 3 years from the date of the install.
Out-Sourced Products
For all products manufactured outside of Royal Prime such as front entry doors, and wood windows Royal Prime passes along factory warranties from the company that produced the product.
Royal Prime Factory Produced Products
It's windows and doors are free from material defects in manufacture, and will not peel, corrode, rot, warp, blister, or flake.
It's insulated glass units will be free from material obstruction as a result of dust or film formation on internal glass surfaces caused by failure of the hermetic seal due to faulty manufacturing. For the first 10 years from the purchase date, Royal Prime will replace any failed IG units. After 10 years a $50.00 charge for a new IG unit would be required. (Note: Humidity within the house or building area, and exterior temperature differential may, as a natural result, cause condensation on glass, aluminum, or vinyl surfaces. This does not indicate a defective or faulty window, and would not be included in this warranty.)
Manufacturer will provide free repair or replacement - at its option - of any part that is proven defective due to manufacturing after inspection by the manufacturer. If for any reason a product is discontinued, Royal Prime reserves the right to replace the part or product of one with equal or greater quality.
Royal Prime factory color coatings are warranted for a ten-year period from the date of purchase against chipping or fading. Extruded colors do not apply.
The limited warranty period for windows and doors shall be for life to the original purchaser. Should the original purchaser sell the home or business, the new owner can contact Royal Prime and for a $30.00 processing fee + $20.00 per window fee, and if they have provided a copy of the original invoice from the original purchaser, we will extend the warranty to them.
THIS LIMITED WARRANTY IS IN LIEU OF ALL OTHER GUARANTEES AND WARRANTIES EXPRESSED OR IMPLIED. MANUFACTURER MAKES NO OTHER EXPRESSED OR IMPLIED REPRESENTATION ABOUT ITS PRODUCTS MERCHANTABILITY, FITNESS FOR A PARTICULAR PURPOSE OR USE, OR ANY OTHER MATTERS. MANUFACTURER SHALL NOT BE RESPONSIBLE FOR ANY CONSEQUENTIAL OR INCIDENTAL DAMAGES.
*FOR DISTRIBUTED PRODUCTS THAT WERE NOT PRODUCED IN-HOUSE, ROYAL PRIME PASSES ALONG ALL WARRANTY'S FROM THE COMPANY THAT MANUFACTURED THE PRODUCT.